The Santa Clause Parade is on the Southside this year & Nutri-Lawn Fredericton is gathering non perishable food items!

DONATE AND GET A SPECIAL TREAT!

THE CHINCH BUG WILL MAKE YOUR LAWN BROWN! YUCK!



"One sign of the CHINCH BUG is localized brown, irregular sunken dead lawn patches, evident in July and August…" 

Read More http://www.nutrilawn.com/lawn-insects-insect-types-chinch-bugs
Suspect but aren't sure you have a CHINCH BUG problem? Call Nutri-Lawn Fredericton, we'll come out and take a look for you.
506.452.8471
Jim Cooper

Does Your Lawn Look Like This?

You might have Grubs! eeewwww!

Do you live in Fredericton? Are there homes in your area where the lawns look like this? If your neighbours have it … chances are you're next! White Grubs feed on your lawns roots … but those pesky raccoons, skunks and birds will cultivate you lawn like a farmer's field when searching for them. Our trained Nutri- Lawn staff offer the most effective white grub control product in the industry to eliminate damaging white grub infestations that destroy lawns!

Grubs are quickly invading the Fredericton area once again this year.  Book your preventative treatment before they destroy your lawn and protect the investment you've made in your property.

Don't let Grubs ruin your landscaping, call Nutri Lawn today 506.452.8471

Does the appearance of your lawn look Orange or have your shoes turned Rusty-Orange after walking across the lawn?

If so, that is a good indication the lawn has been infected by the fungal disease called Rust. Rust disease is very common on most turf grass especially Kentucky Bluegrass and Perennial Ryegrass.

Environmental stresses contribute to the severity of the disease. It is prevalent during autumn when the grass is growing slowly. Warm, dry conditions and cool nights with heavy dews are ideal conditions for rust. Fortunately, rust is not a serious disease and rarely kills the grass.

Rust can be controlled with sound turf management, including proper fertilization. Mowing on a regular basis at 2.5-3.0" can help reduce the incidence of disease. Bagging and or raking up the clippings when the disease is present and discarding or destroying them will reduce the amount on the site. With cooler weather the grass typically recovers on its own just fine.
The landscape job exceeded my expectations. I knew it would be good but never imagined. It was a wonderful job and the crew were super to deal with!!
-Doug Hetherington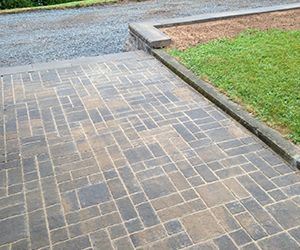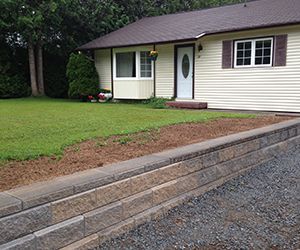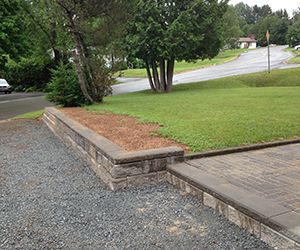 ---
My favorite part of the landscaping is the Fire Pit. I love the natural look of the stonework around the 'pit'. The same stonework completes the rest of the landscaping with a large patio in front of the house and a smaller one at the back. My Great Grandchildren and I have enjoyed many wiener roasts followed by s'mores around the pit.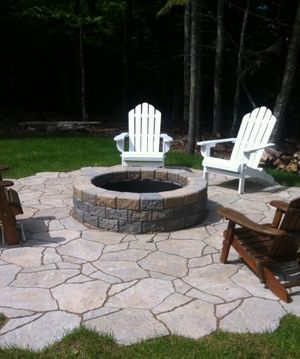 ---
I found that the job your landscape crew did was both fast and professional. This was in spite of the many gardens to required to sod around. Thank you very much for your effort--after a long, hard winter, the lawn still looks good!
-Craig Glassford
---
Mew Maryland I've contacted Nutri-Lawn New Brunswick for an quote to have my backyard done. The back yard was upside down after a septic field rebuild. They came, walk the fields with me, make measurements and provided me with a quote the same day.
I decided to make business with them after comparing different company.
I received good suggestion and decided to go with a mixt of sod, near the house and hydro seed for the rest of it - the work was done in August and later in Fall, the sod look very good as well as the section with hydro seed. The service I received was profesional and efficient.
I already recommended this company to some of my friends.!
Thanks a million - Mary Kay