Every winter, Canadians hear about people who are hospitalized or even die from heart attacks while clearing snow. So what is it about shovelling that makes it such a health menace?

The main problem is that we tend to underestimate how hard it is. Canadians often feel we were born to shovel snow or that we have a civic duty to get the white stuff off their sidewalks and driveways as soon as a snowfall ends. So we rush out, telling ourselves it has to get done, and attempt to move it all in one go.

But a half hour of shovelling is really the exercise equivalent of hitting the gym for half an hour.

Dr. Robert Beanlands, chief of cardiology at the Ottawa Heart institute, says shovelling can be one of the most dangerous activities for people with heart disease.

"It's generally like lifting weights," he tells CTV Ottawa. "And for people with heart conditions, we don't like them to be lifting heavy weights such as with heavy snow shovelling."

It's not just the exercise itself that's tough; the cold air of winter can put an extra strain on our hearts that many of us fail to appreciate.

Cold weather is known to increase blood pressure and heart rate just on its own. It also increases blood concentration of something called fibrinogen, which is a protein involved in blood clotting. Shoveling, of course, does the same thing, and for many people, all these factors combined hikes our heart attack risk.

According to the Heart and Stroke Foundation, studies show that in most people who have died while shovelling, the spike in heart rate and blood pressure caused the shape of their blood vessels to change, allowing plaque inside the vessels to become loose and travel to the heart, causing a heart attack.

One study published last year by researchers at Queen's University and Kingston General Hospital found that two main risk factors increase the risk of a severe heart problem while shovelling: being male; and a family history of a diagnosed heart problems. Both hiked the risk by about four times.

Knowing the signs

So how do you know if you're at risk from shovelling?

The Heart and Stroke Foundation recommends that if you have ever had a heart attack, stroke, or heart surgery, it might be best to call someone to do the shovelling for you. If you want to do it yourself, speak to your doctor about the risks first.

The same applies if you currently have uncontrolled high blood pressure, high cholesterol, are obese, smoke, or are overweight or have an inactive lifestyle.

The warning signs of a heart attack include:

pressure in your chest
pain radiating down one arm
shortness of breath or dizziness
profuse sweating
intense nausea

"These would be a warning that what they're doing is causing a problem," says Dr. Beanlands. "They should stop, sit down and rest and if it doesn't go away in a couple of minutes, call 911."

Here are some more tips from the Heart and Stroke Foundation and the American Heart Association:

Don't shovel right after eating a meal: Your body is working hard enough just to digest the meal; adding vigorous activity on top of that could put too much strain on your heart;

Don't shovel after drinking alcohol: Alcohol can increase a person's sensation of warmth and cause them to underestimate the extra strain on their body in the cold.

Don't step out the door and get straight to shovelling: Take a few minutes to get your circulation going and warm up your muscles. Try some light walking and stretches to increase your heart rate slowly and prepare you for the activity

Don't think that a snowblower eliminates your risk. Snowblowers still have to be pushed through the snow, which can be hard depending on how wet the snow is. And they can't get everywhere so some shovelling is usually still needed.

Take a lot of breaks along the way: It's a good idea to wait for your heart rate to settle down every so often before starting again.

Be prepared to take a few layers off as you go: Overheating will increase your blood pressure further so make sure you can strip down to just a sweater if needed.

Take lots of water breaks, just as you would during any other exercise.

If you're feeling tired or dizzy, stop: Go inside and plan to finish the job later. If you are still feeling very unwell even several minutes after stopping, call 911.

Be willing to ask for help from family, friends or neighbours. As well, if you know a storm is coming, recruit help long before the flakes fall.

Find out if your community offers snow removal: Many communities will clear the sidewalks outside the homes of older or disabled adults or those with heart conditions.

Finally, learn CPR. You never know when you might have to help a neighbour or family member whose heart has stopped. Effective CPR from a bystander can double or triple a victim's chance of survival, and hands-only CPR makes it easier than ever to save a life.

Read more: http://www.ctvnews.ca/health/health-headlines/why-can-snow-shovelling-be-so-dangerous-1.1094115#ixzz3QJbnHrTf

The Santa Clause Parade is on the Southside this year & Nutri-Lawn Fredericton is gathering non perishable food items!

DONATE AND GET A SPECIAL TREAT!

THE CHINCH BUG WILL MAKE YOUR LAWN BROWN! YUCK!



"One sign of the CHINCH BUG is localized brown, irregular sunken dead lawn patches, evident in July and August…" 

Read More http://www.nutrilawn.com/lawn-insects-insect-types-chinch-bugs
Suspect but aren't sure you have a CHINCH BUG problem? Call Nutri-Lawn Fredericton, we'll come out and take a look for you.
506.452.8471
Jim Cooper

Does Your Lawn Look Like This?

You might have Grubs! eeewwww!

Do you live in Fredericton? Are there homes in your area where the lawns look like this? If your neighbours have it … chances are you're next! White Grubs feed on your lawns roots … but those pesky raccoons, skunks and birds will cultivate you lawn like a farmer's field when searching for them. Our trained Nutri- Lawn staff offer the most effective white grub control product in the industry to eliminate damaging white grub infestations that destroy lawns!

Grubs are quickly invading the Fredericton area once again this year.  Book your preventative treatment before they destroy your lawn and protect the investment you've made in your property.

Don't let Grubs ruin your landscaping, call Nutri Lawn today 506.452.8471

Does the appearance of your lawn look Orange or have your shoes turned Rusty-Orange after walking across the lawn?

If so, that is a good indication the lawn has been infected by the fungal disease called Rust. Rust disease is very common on most turf grass especially Kentucky Bluegrass and Perennial Ryegrass.

Environmental stresses contribute to the severity of the disease. It is prevalent during autumn when the grass is growing slowly. Warm, dry conditions and cool nights with heavy dews are ideal conditions for rust. Fortunately, rust is not a serious disease and rarely kills the grass.

Rust can be controlled with sound turf management, including proper fertilization. Mowing on a regular basis at 2.5-3.0" can help reduce the incidence of disease. Bagging and or raking up the clippings when the disease is present and discarding or destroying them will reduce the amount on the site. With cooler weather the grass typically recovers on its own just fine.
The landscape job exceeded my expectations. I knew it would be good but never imagined. It was a wonderful job and the crew were super to deal with!!
-Doug Hetherington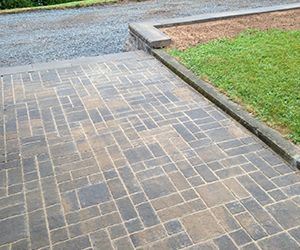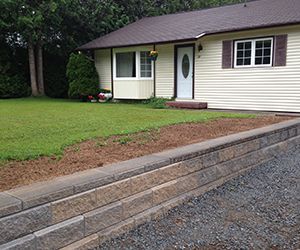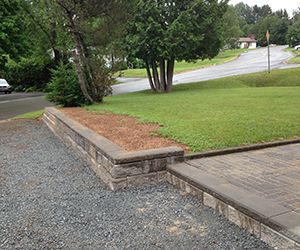 ---
My favorite part of the landscaping is the Fire Pit. I love the natural look of the stonework around the 'pit'. The same stonework completes the rest of the landscaping with a large patio in front of the house and a smaller one at the back. My Great Grandchildren and I have enjoyed many wiener roasts followed by s'mores around the pit.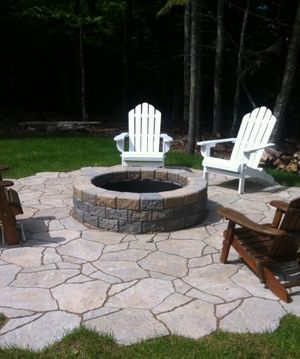 ---
I found that the job your landscape crew did was both fast and professional. This was in spite of the many gardens to required to sod around. Thank you very much for your effort--after a long, hard winter, the lawn still looks good!
-Craig Glassford
---
Mew Maryland I've contacted Nutri-Lawn New Brunswick for an quote to have my backyard done. The back yard was upside down after a septic field rebuild. They came, walk the fields with me, make measurements and provided me with a quote the same day.
I decided to make business with them after comparing different company.
I received good suggestion and decided to go with a mixt of sod, near the house and hydro seed for the rest of it - the work was done in August and later in Fall, the sod look very good as well as the section with hydro seed. The service I received was profesional and efficient.
I already recommended this company to some of my friends.!
Thanks a million - Mary Kay